Furuta has been taking care of Hachimaru since he was little. He was trying to build him a mobile life-preserving machine, but that led to Hachimaru becoming a samurai.
Appearance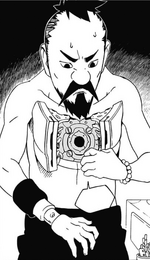 Furuta is balding, with dark, grey-streaked hair. He has thick eyebrows, a goatee and a large moustache. Furuta is short in stature, with a large nose and eyes.
Furuta typically wears a pale hooded jacket and dark pants. He wears a black wristband on his right wrist and a pale beaded bracelet on his left. Before Hachimaru became a samurai, Furuta wore the key to Hachimaru's chest cavity on a necklace.
Personality
Furuta is fiercely protective of his son, reacting strongly when he is in danger. Like his son, he is also somewhat cantankerous, often arguing with Hachimaru over minor issues.
History
Coming Soon
Synopsis
Coming Soon
Abilities and Powers
Coming Soon
Relationships
Hachimaru
Coming Soon
Ata
Coming Soon
Trivia
Coming Soon
References
Community content is available under
CC-BY-SA
unless otherwise noted.