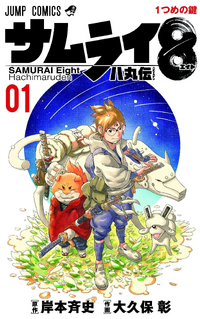 Samurai Eight: Hachimaruden (サムライ8 八丸伝, Samurai Eito Hachimaruden?) (stylized as SAMURAI Eight Hachimaruden), also known as Samurai 8: The Tale of Hachimaru, is a manga series created, written, and storyboarded by the creator of Naruto, Masashi Kishimoto and illustrated by Akira Okubo. It premiered on May 13, 2019 in the 24th issue of Weekly Shonen Jump in Japan. The series ended on March 23, 2020 in 17th issue of Weekly Shonen Jump in Japan.
History
Kishimoto's new works was teased during Jump Festa 2018's Boruto: Naruto Next Generations stage panel in December 2017. The panel teased several layout art sequences that Kishimoto drew for the new work. A year later, in December 2018, during Jump Festa 2019, the new work was fully revealed with a promotional video and artwork with publication starting in Spring 2019.
A Samurai Eight: Hachimaruden Preview (「サムライ8 八丸伝」予告編, Samurai Eito: Hachimaruden Yokokuhen?), was a four-page preview of Samurai Eight: Hachimaruden published on April 27, 2019 in Weekly Shonen Jump 2019 No. 22-23. It depicts Hachimaru and Hayataro making a fateful wish on a shooting star.
As part of the promotions leading up to the debut of the series, a Countdown comic of eight illustrations by Akira Okubo was published daily by the official Japanese Samurai Eight: Hachimaruden Twitter account on May 5, 2019. It depicts Daruma in ball-form, bouncing and rolling across the diverse landscapes of the Samurai Eight: Hachimaruden world until he is found by Hayataro and brought up to Hachimaru.
Plot
The galaxy is headed towards the end of its existence: It can't withstand any longer than for another century. A samurai was given the mission to try and save all of the scattered planets and their respective inhabitants by finding Pandora's Box. The warrior god, Fudo Myo-o, sealed a secret that will save the entire world inside of Pandora's Box. In order to open it, someone will need to find the seven keys first. Hachimaru, a feeble boy who's required medical assistance since birth, might just be one of them![1]
He can't run! He can't eat hard food. You can't get any weaker than the boy named Hachimaru. But his dream is to become a samurai. For a boy who can't even survive without the help of his father, that dream seemed impossible. But when a samurai cat appears before him, his whole life will change!
Chapters
Main article: Volumes and Chapters
Gallery
Artwork
Countdown Manga
Weekly Shonen Jump Covers
Volume Covers
Japanese Covers
English Covers
Trailers
External Links
References
Community content is available under
CC-BY-SA
unless otherwise noted.